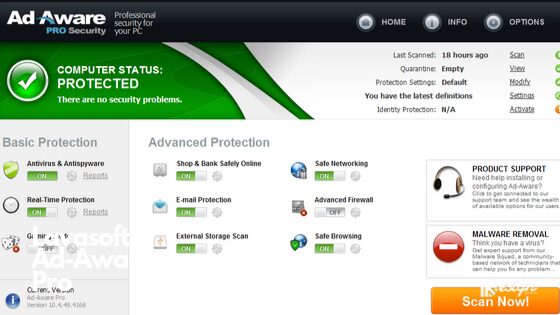 We are going to refer to anti-virus and anti-spyware program which has been developed by the company Lavasoft, and the main function of it is to:
Detects malware
Removes malware
Detects spyware
Removes spyware
Detects adware
Removes adware
As per reports the ad-ware which was developed by Lavasoft help in the following security functions:
Detects spyware
Detects computer viruses
Detects dialers
Detects Trojans
Detects Bots
Detects Rootkits
Detects Data Miners
Detects Aggressive Advertising
Detects Parasites
Detects Browser Hijackers
Detects Tracking Components
Background

The Ad-Aware spyware and anti-virus program was originally developed in the year 1999 and was used in order to focus on the web beacons which were found inside the Internet Explorer. As time passed by, Ad-Aware advanced its ability and was now able to block those beacons or the ads which popped up. As per the recent version, it no longer provides any kind of alarm to the user but instead of that itself fights with the spyware, adware, viruses and other kinds of malware.
Ad-Aware Pro Security:
In the year 2008, the company Lavasoft for the first time teamed Ad-Aware Pro as well as Ad-Aware Plus with an antivirus scanner which uses the Avira engine.
The Ad-Aware pro is a version which is clad with the following pros:
Complete security against the most extreme forms of malware as well as cyber threats.
It provides one of the most advanced anti-spyware and antivirus detection and threat blocking algorithms.
It is also clad with a two-way firewall.
The web filters against any kind of phishing attacks.
And this version also provides some real-time email protection as well.
Features of Ad-Aware Security:
Fast Antivirus – there are two engines which are working together to block any kind of malware from your system, which is the reason why it is termed as the fastest anti-virus program, however, if you were thinking that because of both the engines working together there might be conflict, but now there isn't, rather with automatic updates available you can sleep peacefully knowing that your system, as well as the important files saved in them, are secured all the time.
Download Protection – when you are downloading any application or a movie or songs from any kind of shared network or even from the internet, it is without even you being aware that your PC is presented with the threat of various malware affecting it, hence before even you knowing Ad-Aware scans these files even before they are downloaded on your hard-drives and detects any and all kinds of malware before it could be launched in your system.
Automatic Threat Updates – with the automatic threat updates you PC can be run a lot smoother than otherwise, it could have, given the situation where Ad-Aware would have not been installed in your PC. So you can now relax and browse as all the latest updates will be downloaded as well as installed in your system automatically with the help of Ad-Aware Pro.
Game Mode – Now you can watch any movie or play any kind of game on your PC without any kind of disturbance. We boast of being the very first anti-virus program that had the game mode included in the package. Your PC will now stay protected even when you are fully and completely engrossed in playing a game or watching a movie on your PC. With the Game Mode activated in this anti-virus program, there would be no interruption or strain on your system, also it is this game mode which suspends any kind of security alerts as well as system scans while you are busy working on your system or playing and wish to have no kind of interruption in between.
Safely Shop As Well As Bank Online – it is especially when you are shopping online where you have to use your net banking facility or provide your credit card details, or when you are using your Online Banking service that the system is vulnerable to any kind of security threat, but with the help of Ad-Aware antivirus the real-time web filter on and the mischievous links, content or any kind of malware are effectively blocked from the system even before they could cause any kind of harm to your system.